© 2018 Americraft Awning, Inc.  All rights reserved.

Not All Awnings Are Created Equal!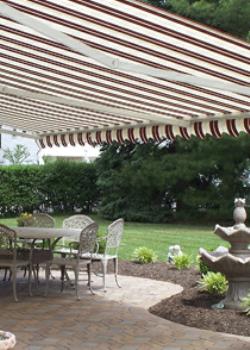 Shade When you Need it, Sun When you Want it!

REDUCE ENERGY

Awnings result in cooling energy savings by reducing direct solar gain through windows.

BRING SHADED COMFORT TO DECKS & PATIOS

Don't let the sun chase you off your patio, deck or terrace.  Retractable awnings mount to your wall or on the roof above your patio or deck.

DESIGN FOR EVERY HOME

Choose from hundreds of solids, stripes, or tweeds from various fabric manufacturers.  All retractable awnings are custom made to measure, and professionally installed.

LIKE OUR PRODUCTS?

Give us a call at

(302) 737-7086

Aristocrat uses a tray that keeps the fabric taut when extended and eliminates the need for roller tube supports that can cause damage - an Aristocrat EXCLUSIVE!

Awnings can block harmful rays that cause skin cancer by 94%.

Awnings can reduce indoor temperatures by 15 degrees.

50% of the solar heat gained entering a room comes from the glass, accounting for about 1/5 of the load on an air conditioner.

Aristocrat awnings can operate at the touch of a button - or with sun & wind sensors that control operation automatically!

Aristocrat awnings are manufactured by Craft-Bilt Manufacturing Co., a leader in reliable, quality products since 1946.

4 Exclusive Awnings to Choose From with widths ranging from 7 to 23 feet!

All awnings are made to measure and professionally installed!


Americraft Awning Inc. is an authorized dealer of Aristocrat Awnings, please click here to visit their website.